Hardwood Floor Maintenance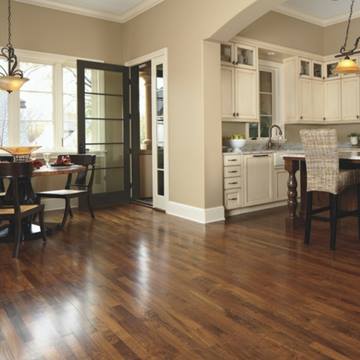 Everyone admires the polished, classic beauty of a well-maintained wood floor. Everyday hardwood maintenance should involve sweeping with a soft-bristled broom, protecting it from moisture and preventing sharp objects from causing deep scratches. Be aware that UV radiation from sunlight will age, discolor and fade a hardwood floor much faster than scuffs and spills. Consequently, if your hardwood floors suffer several hours of direct sunlight each day, consider positioning furniture differently every few months to allow the floor to fade or change color evenly.
What You Shouldn't Do to Your Hardwood Floors
While you might be tempted to try and clean your wood floor yourself, it's always best to let a professional do the job since there are so many products that might damage the natural beauty of hardwood floors. Here are some important warnings regarding the cleaning of wood floors:
-Do not attempt to wax a wood floor with a urethane finish
-Certain cleaners will leave residue--don't use them!
-Oil soaps will only dull the shine of a wood floor and make it more difficult to re-coat
-No wet mops--a wood floor will expand when soaked or even splinter and crack
-Sticky areas should not be cleaned with a damp rag or sponge
If you want to do your own hardwood care and aren't sure what to use, contact our experts. In addition, manufacturers of hardwood floors include recommendations in their specs regarding hardwood maintenance products that are safe and effective to use on wood floors.
When Professional Hardwood Maintenance May Be Necessary
Depending on environmental conditions and usage, hardwood floors may eventually need professional hardwood care to keep maintain its original natural elegance.
Screening means the floor will be carefully abraded until the polyurethane finish is visible. A fresh application of urethane is then spread evenly over the floor, leaving your hardwood floor glowing with new life and a gorgeous luster. If areas of your wood floor are severely damaged, you can have replacement boards installed that match or can be made to match your original wood floor.